It's only halfway through October! I've only experienced 8 train delays this month so far*! Time for a round-up of my thrift purchases last month.
Stop 1: the flea market at De Anza College
Indonesian wide leather belt $5
I don't think this cool flower belt had ever been worn. There were black threads still on it that appear to have been from a tag, and the leather isn't bent or broken in. I am looking for a plain saturated dress in a nice deep green or blue, as I think this would look killer over one.
Dana Ashkenazi sweatshirt $1
I'm not sure what I'm gonna do with the sweatshirt. I got it because I like the reverse exposed seams, and quartering on the front like a shield.
I am not gonna sport Che Guevara on my left boob, though. Time for some sort of patch. And I don't know what's up with the Charlie Chaplin graphic on there either, but all signs point to me not being young-hip-urban-blonde-trustfund enough to wear this brand:
Go on and Google image it yourself. It goes on. Haha!
Dear gawd it's so comfortable, though. I've always wanted an
IDGaF
shirt to pull on over broken-in IDGaF jeans, that would make me look good while clearly still not GaF. I've tried a few (in my head they must be grey, a traditionally underwear and therefore IDGaF color) and it's never worked out. I think this may be the one.
Not pictured is a sheer green top I bought from the same lady that sold me the sweatshirt, also for $1. It took me 20 minutes to untangle, so it was worth the money for the entertainment, but for all the promise that the different panels and wrappy bits and pointy hem promised, it was disappointingly symmetrical and makes me look like a squat tube.
Munro American navy and brown flats $10
...whose heels are not suitable for scootering to and fro and standing all day at a desk.
Stop 2: ARF (pet benefit thrift shop)


Tahari silk and cotton cropped cardigan $2.50
I call the color Dusty Burga-roon. Pictured here with my
skunkfunk skirt
I can never get to go with anything for love or money. I'm playing with color triads now. (No, not Triads.)
NYDJ straight leg cut, $2.50 each
I'm trying more straight leg jeans to see if they don't make me look unhappy sausage-like in the way that skinny jeans do. I don't know what to call the color of the pair on the left other than Lake Bottom. Not romantic-sounding, but a cool slightly unusual dark neutral to try with things. I want a set of Pantone color chips like Anne of
Spy Girl
has so I can know the names of all of these new colors I'm adding to the wardrobe.
akdmcs capris $1.50
Never thought I'd buy capris, but herringbone denim, embroidery, and cool snaps and zippers are enough to sell me on anything, apparently! I also live in an environment in which I would not freeze the lower half of my calves off wearing them, so now's the time to experiment.
motherhood maternity navy shrug $2.50
I was just talking about looking for one of these in my last post, and I found one not long after! It's not my first piece of maternity clothing, though I don't know what's maternity about a shrug. I guess it's like a plus size brand making scarves. Why not make it a one-stop shop for your demographic?
mod-o-doc striped v-neck $2.50
Way out of my comfort zone. Stripes?! Bright colors? No blue? I want this to go with something deep green. The same deep green that I've been looking for in thrift stores for months.
White silk hair clip $1
This bow is half the size of my face. I love that.
Trinkets for my front windowsill $2 each
These two actually came from the Goodwill and Salvation Army. Favourite Joe says the textured glass globe on the left is Pluto. My apartment has a large window looking out on the porch and courtyard, so I've put some pretty things on it to catch the afternoon light.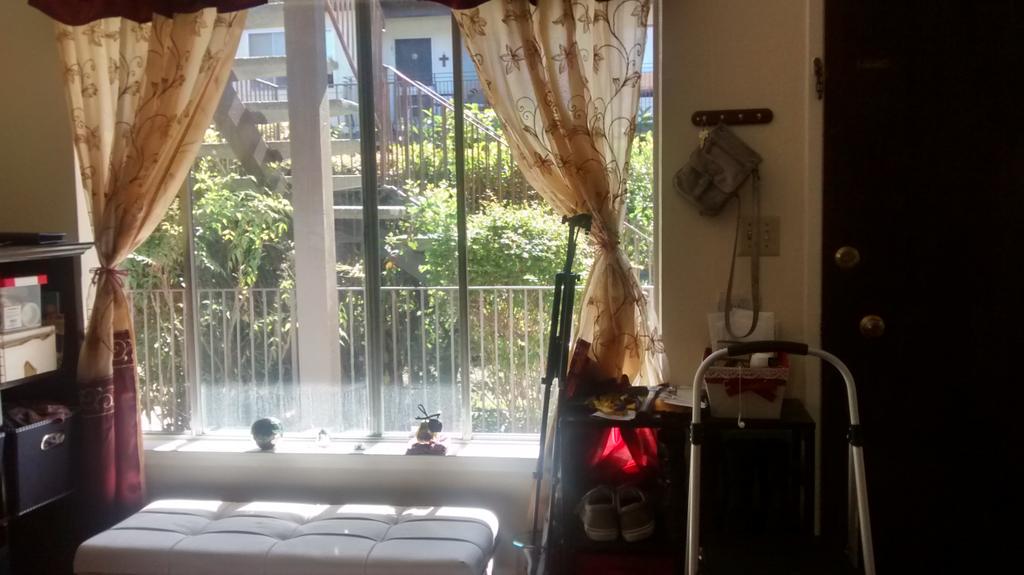 Total spent on clothes in September comes to a little over $30! Hooray for making budget!
Man, this post got long. I thrift a lot. I think I will break my round-ups into two from now on.
* This isn't enthusiasm. This is inner screaming.